FEMA Individual Assistance (Applies to Lake and Shasta County Only)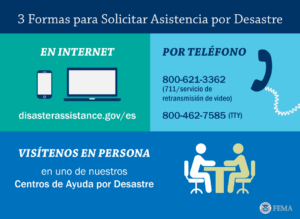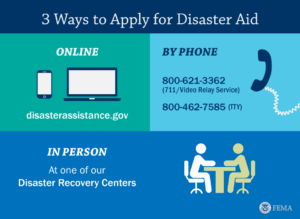 FEMA offers Individual Assistance after a disaster to help begin your recovery. Our Individual Assistance page offers you a look at the steps and options available to you.
Registering online at www.DisasterAssistance.gov, is the quickest way to register for FEMA assistance. If you are unable to access the internet, you can also call at 1-800-621-3362.
The Federal Emergency Management Agency, U.S. Small Business Administration (SBA), volunteer groups and other agencies are at Disaster Recovery Centers and Local Assistance Centers to answer questions about disaster assistance and low-interest disaster loans for homeowners, renters and businesses. They can also help survivors apply for federal disaster assistance.
FEMA, Cal OES and partner agencies are working together to review all available housing options to meet the temporary/short-term and permanent/long-term housing needs of those affected by the wildfires.
Applicants may register for FEMA assistance and your registration will be reviewed for all housing options offered by FEMA and Small Business Administration homeowner, renter, business, and nonprofit loans.
We understand there is no one-size-fits-all housing solution. Eligible applicants will be identified and contacted by FEMA directly to discuss available options under the direct housing program. We also want to encourage survivors to actively seek their own personal housing solution that will best suit their recovery needs.
In addition, local government officials, community-led organizations, and partner agencies are working together to help locate and secure affordable housing which may be found on local and county government websites.
I have homeowner's or renter's insurance.
Survivors who have insurance must contact their insurance company and file a claim. FEMA cannot duplicate insurance or other benefits. However, FEMA may be able to help survivors with uninsured or underinsured losses or if their insurance settlement is delayed. Applicants should notify FEMA of their situation and provide insurance company documentation.
I was referred to the Small Business Administration (SBA).
If prompted, homeowners and renters should apply to the SBA, even if they are not sure they will need or want a loan. Applicants not approved for an SBA loan may be referred back to FEMA for possible additional grants.
State and federal recovery officials urge California residents to watch for and report any suspicious activity or potential fraud from scam artists, identity thieves and other criminals who may try to prey on vulnerable survivors of California's wildfires.
For more information, visit FEMA's website.