If you have suggestions for Housing Solutions, please contact FEMA at
fema-housing-solutions@fema.dhs.gov
Current Shelter Information
For up to date shelter information, please go the the Red Cross website.
American Red Cross
https://www.redcross.org/about-us/news-and-events/news/2018/california-wildfires-red-cross-helps-as-thousands-evacuate.html
One or more of several different programs or entities should be able to help you in these circumstances. First, various charitable organizations such as the American Red Cross may be able to provide assistance. Contact information for the Red Cross is available on its website, http://www.redcross.org/contact-us/. Second, if you have homeowners or renters insurance, temporary housing may be covered by your policy. Contact your insurance agent. Third, as discussed below, the Federal Emergency Management Authority (FEMA) has several programs that may be able to assist you.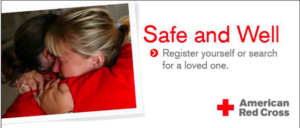 Ease the minds of your loved ones – and find those you think may have been affected by California wildfires. Log on and register yourself Safe And Well.
Click here: https://safeandwell.communityos.org/cms/index.php.
Transitional Shelter Assistance (TSA) Program
FEMA's TSA Program provides short-term lodging assistance for evacuees with a continuing need for shelter because they are unable to return to their homes for an extended period of time after the original shelters have closed. Under the TSA Program, you may be eligible to stay in a hotel or motel for a limited period of time and have the cost of the room and taxes covered by FEMA. FEMA does not cover the cost of incidental room charges or amenities such as telephone, room service, and food.
For those who are eligible, FEMA will authorize and fund the use of participating hotels and motels (through direct payments to the hotel and motel) as transitional shelters. The initial period of assistance will be 5 to 14 days from the date of TSA implementation. If needed, FEMA, in conjunction with the state, may extend this period of assistance. Those interested in TSA should register with FEMA for assistance. You can determine eligibility online at https://www.disasterassistance.gov/ or by calling (800)621-3362. You can search for an eligible hotel at http://www.femaevachotels.com/ or visit https://www.disasterassistance.gov/ and click on the "Transitional Sheltering Assistance Hotel Locator."